Sometimes, the toughest thing about doing a blog, is the desire to keep the topics discussed current and relevant.
http://localmusicplay.com/
It can be tough to be creative on demand. What do you guys want us to discuss? What do you want us to take a look at and listen to? What suggestions do you have for the website or app?
https://localmusicplay.appsme.com
( By the way, we worked really hard to get you guys a really good, easy to use app. Please take the time to download the app at your earliest convenience.) How do we decide on what the subject will be for any given day.
I would like to take a minute to thank you for all the support and views that we have for our blog. It's the first one we have done and still amazes me that people actually are interested in what we have to say. We have so much faith and confidence in our local bands, that we want to be able to support them in every way possible, and we hope that you feel the same.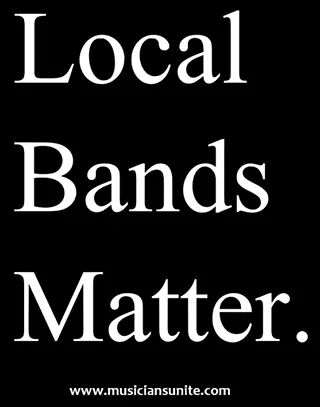 Here are some of our sources of inspiration or where we get our ideas from:
1) We have just loaded and started updating our calendar on
http://shows.localmusicplay.com/week.php
This calendar is to showcase and bring attention to shows that may be happening in your area. It is still a work in progress and everyday I am loading more shows in with their locations. If you want me to add any dates into the calendar, just let me know. Eventually, you as the artist, will be able to have your own page and calendars to update as you book shows. This helps us to decide what shows we are able to attend, how far we want to drive to see it and sets us up to blog about show reviews and/or artist spotlights.
2) Occasionally, one of my friends will bring a new band to our attention or ask us to look at something. Sometimes, word of mouth is the best advertising. ie; A photographer friend on facebook recently brought a band to my attention that has done a cover of Aerosmith's "Dream On". Blacktop Mojo really has a tight sound and grasp on their music. This version just blew me away.
http://localmusicplay.com/main/7225/
3) Twitter, actually, is a good source, as well. We can check to see what is trending and helps us keep up with album/single releases that are coming up. It really helps us to be able to keep up with some of the record companies and what they have in the works that you guys may be interested in.
4) Lastly, it may just be an issue that is near and dear to us, that the music industry reaches out and supports. An earlier post talked about Criss Angel and Dee Snider and their massive support to raise donations for Pediatric Cancer Research.
http://localmusicplay.com/main/7165/
Thanks for following this musical journey! Let me know what you wanna hear about. I can't wait to hear from you guys!! Rock on!!
Beth
Follow us:
http://localmusicplay.com/
twitter @localmusicplay
facebook @localmusicplay